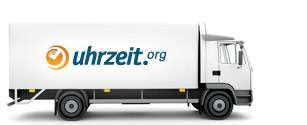 Delivery by DHL
Products are delivered as insured DHL-parcel.
If desired they can also be delivered to your packing station.
Delivery will take place within one working day from payment entry, unless otherwise stated for your particular product.
Articles not in stock will be immediately ordered from the producer. You will be immediately informed in case of delivery delays.
Likewise we will inform you immediately if an article is not available and will refund any payments that have already been received.
Delivery via DHL-Express
Usually, our packages are delivered to you within 1-3 days by "DHL standard shipping national", often they are delivered on the following day already. However, if you are in a particular hurry (e.g. gift, last-minute vacation), for a surcharge of 9.95 €  we additionally offer the "DHL express delivery" within Germany, which guarantees delivery during the next business day (provided the order has been placed until 3 pm).
This applies to items in stock (indicated in the product details with a green traffic light) and instant payment options (PayPal, credit card, sofortueberweisung.de).
It is also possible to specify a certain day of delivery. Please contact our customer service by phone under 040/244 249 40 or send an e-mail to
shop@uhrzeit.org
with any further questions regarding this option or regarding the "DHL express delivery" in general.
Payment type
Order value
> 40€
< 40€

PayPal


With this secure payment option you will be redirected to PayPal after ordering. Please note that for security reasons the delivery address has to be the same you entered with PayPal. We will ship your order right after the payment has been confirmed.
€0.00

€4.95



€0.00

€4.95


Direct bank transfer


You will recieve our bank details in the order confirmation email after completing the order process. We will dispatch your order after recieving payment, this might take up to 3 working days. Please note that some banks charge a fee for international bank transfers. Orders payed by direct bank transfer recieve a 3% discount to compensate, but this might no always be sufficient to cover the additional costs. Ask your bank for details.
€0.00

€4.95


MasterCard, AmericanExpress and Visa Card Payments


Pay safely with Verified VISA, MasterCard SecureCode and AmericanExpress. After sending your order you can make a secure payment through our partner Wirecard. The ordered item will be shipped right after the payment has been confirmed. Please note that for security reasons and to prevent credit card fraud, we can only accept credit cards that were issued in the same country that the delivery address is in. We are sorry for any inconvenience this may cause.
€0.00

€4.95


Pay with paydirekt


paydirekt is the online payment solution of the German banks and savings banks. With paydirekt you enjoy the securitiy of your bank or savings bank. Your payment is instantly confirmed so that an immediate shipment is possible, your bank account details are not trasmitted to the retailer.
€0.00

€4.95


direct debit



€0.00

€4.95


Cash On Delivery


Within Germany you can also pay by COD. In this case the order has to be payed for in cash when delivered. We will ship the item as soon as we have recieved your order.
€7.95

€7.95


Payment by account in trust


Using a trust account is an especially secure payment handling type in case of high order values. The purchaser effectively bears no risk, for according to § 51 BRAO all german advocates are compulsorily insured for up to 250.000 €, which will be payed even if the advocate should embezzle the money.

We cooperate with the Heidelberg, Holst & Partner law office, which holds the described Insurance at the Allianz Versicherungs- AG. The payment via trust account is available for our customers without any charges.

After selecting "account in trust" as the payment type you remit the order amount  to the Heidelberg, Holst & Partner law office. Directly after the payment receipt you will receive an email requesting you to confirm that you received the ordered goods in good condition. The order amount will be authorized for payment not before you have sent this confirmation to the law office.
In case of dispute or insolvency of Uhrzeit.org GmbH the money will remain blocked in the trust account until the dispute is settled, if neccessary by court decision. Up to this time you solely decide wether the purchasing price will be authorized for payment or not. In case of insolvency or fraud you wil definitely get your money back. 

Questions regarding the trust account may be adressed to anderkonto@ heidelberg-holst.de
€0.00

€4.95


Giropay


After ordering you can pay comfortably online via our partner Giropay/eps. We will ship the ordered item within the indicated shipping period after the payment is confirmed. To use Giropay/eps you do not need special software, nor do you have to register separately. All you need is a giro account with one of the participating credit institutions, which is unlocked for Online-Banking.
€0.00

€4.95


EPS


After ordering you can pay comfortably online via our partner Giropay/eps. We will ship the ordered item within the indicated shipping period after the payment is confirmed. To use Giropay/eps you do not need special software, nor do you have to register separately. All you need is a giro account with one of the participating credit institutions, which is unlocked for Online-Banking.
€0.00

€4.95


Amazon Payment


With Amazon payment you can easily order using the payment and shipping information provided by your Amazon customer account. Just click the "payment via Amazon"-Button in the shopping cart and select the desired payment type (e.g. credit card or direct debit) and shipping adress from the options given in your customer account to finish the ordering process.  More information regarding Amazon payment is found at https://payments.amazon.com.
€0.00

€4.95


hire purchase


Slice it: With the financing service from Klarna you can pay your purchase in flexible or fixed monthly instalments according to the conditions stated in the checkout. The instalment payment is due at the end of each month after submission of a separate monthly invoice by Klarna. Further information regarding Slice It including terms and conditions and Standard European Consumer Credit Information you can find here for the markets where this payment method is available: Austria , the United Kingdom , Germany , Sweden , Norway , Denmark and Finland .
€0.00

€0.00


sofortüberweisung.de


After ordering you can pay comfortably online via our partner Klarna. We will ship the ordered item within the indicated shipping period after the payment is confirmed. To use this option, you need a bank account that is unlocked for Online-Banking with the PIN-/TAN-method.
€0.00

€4.95